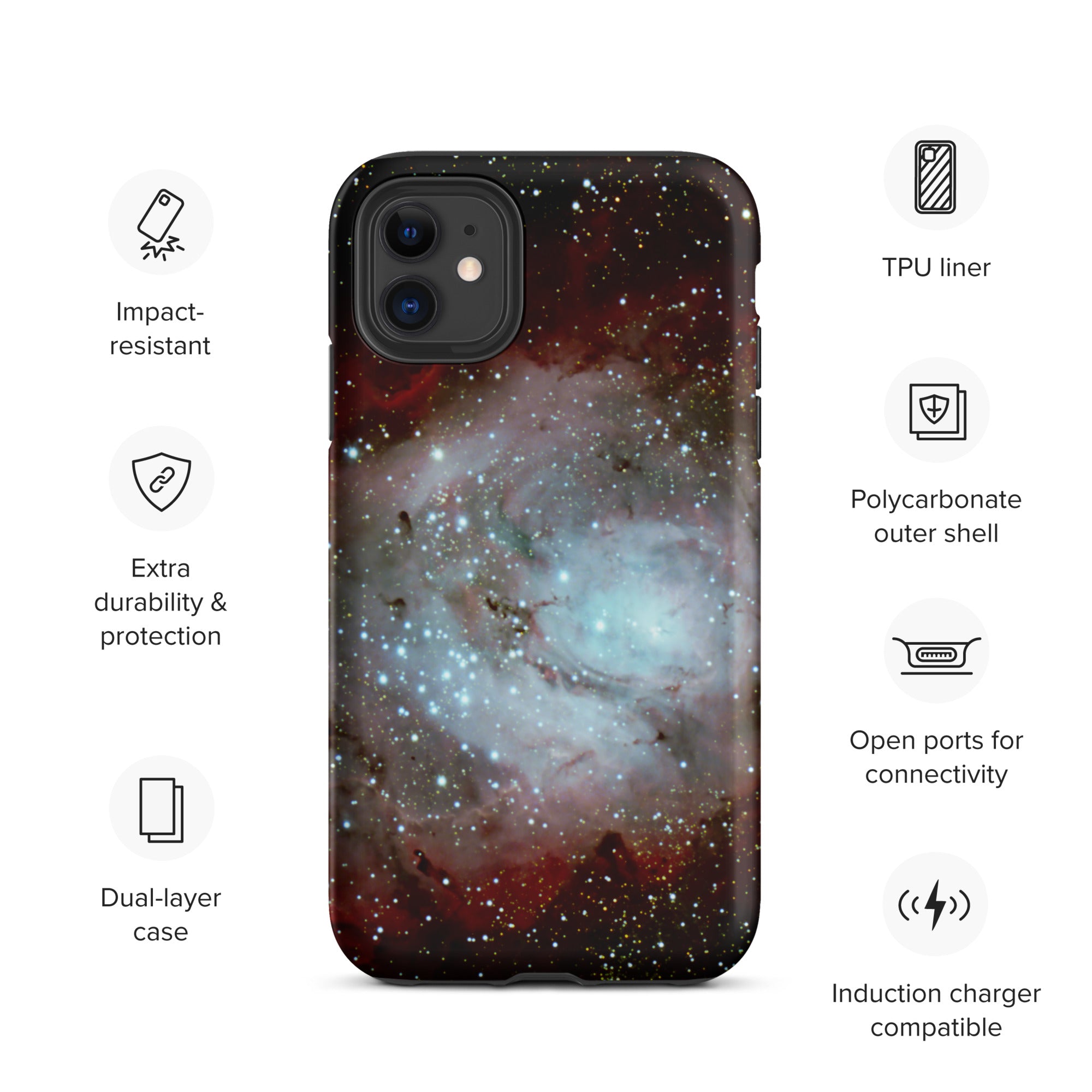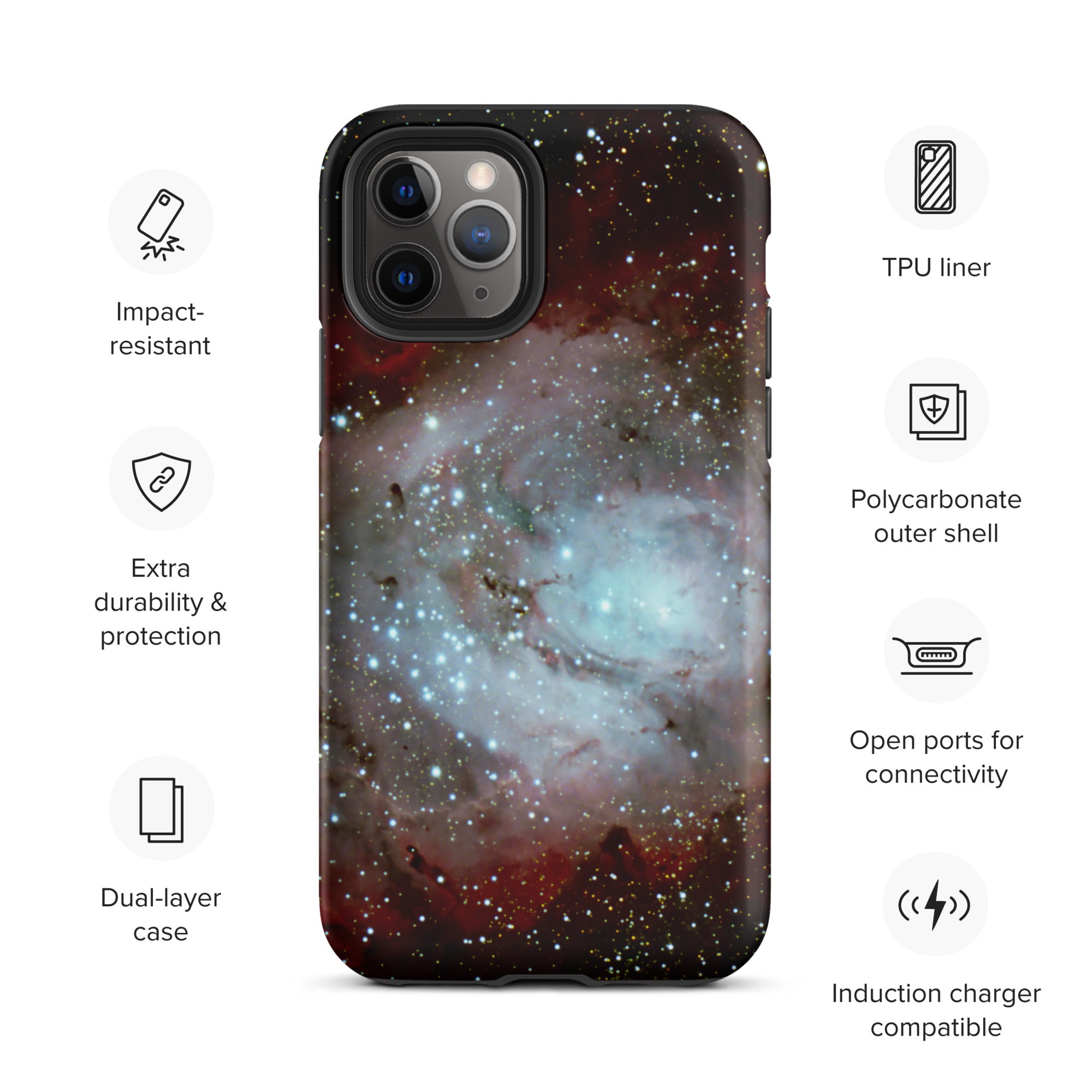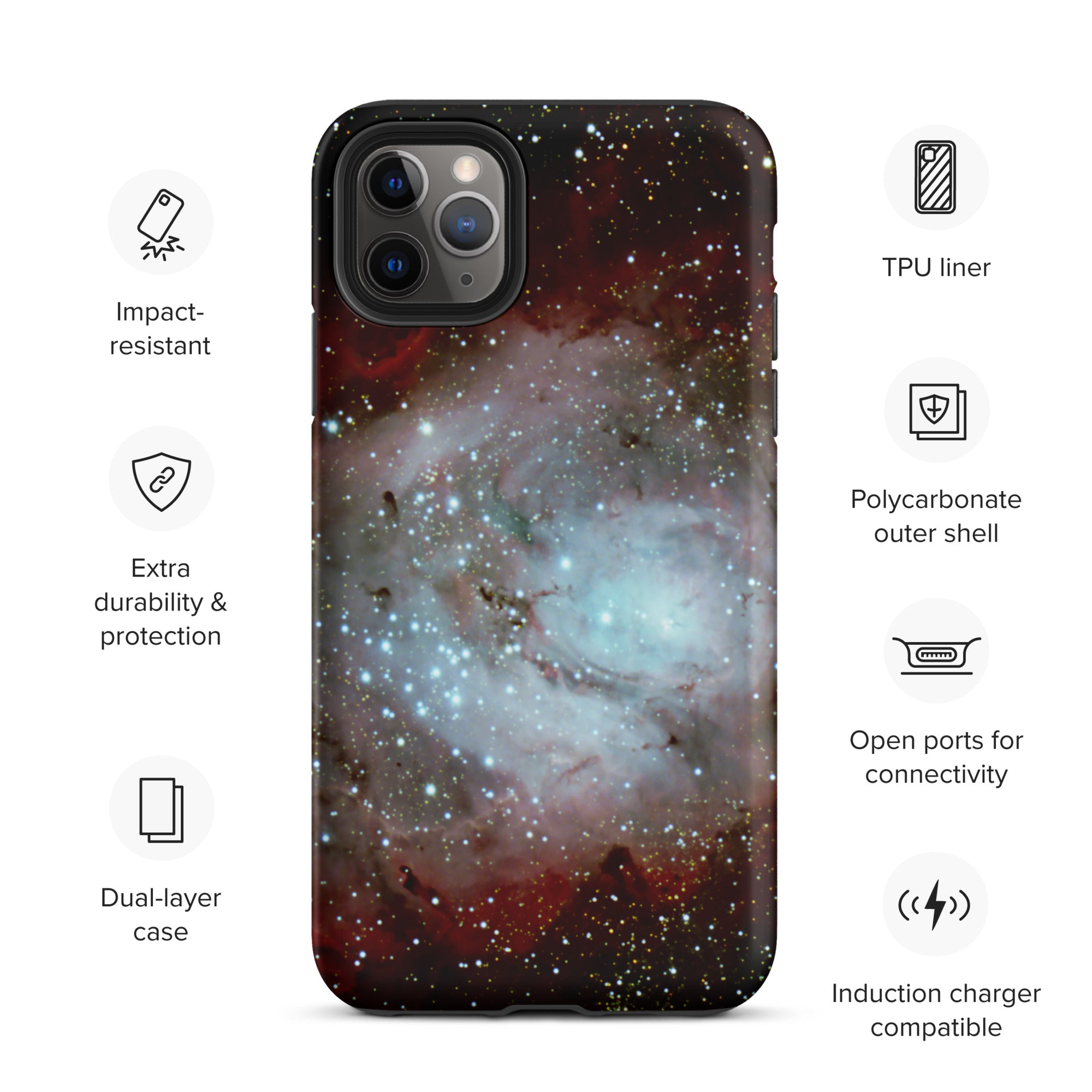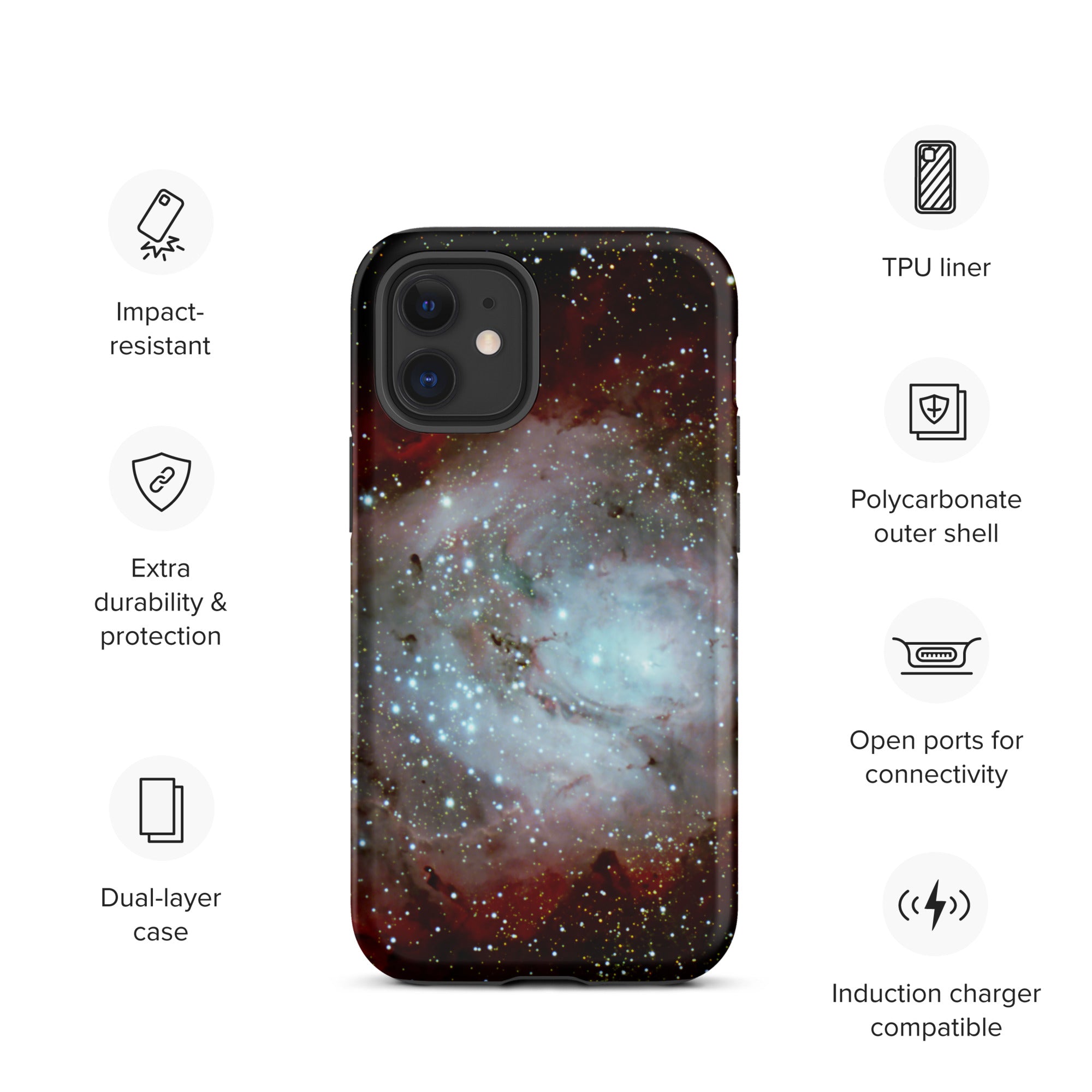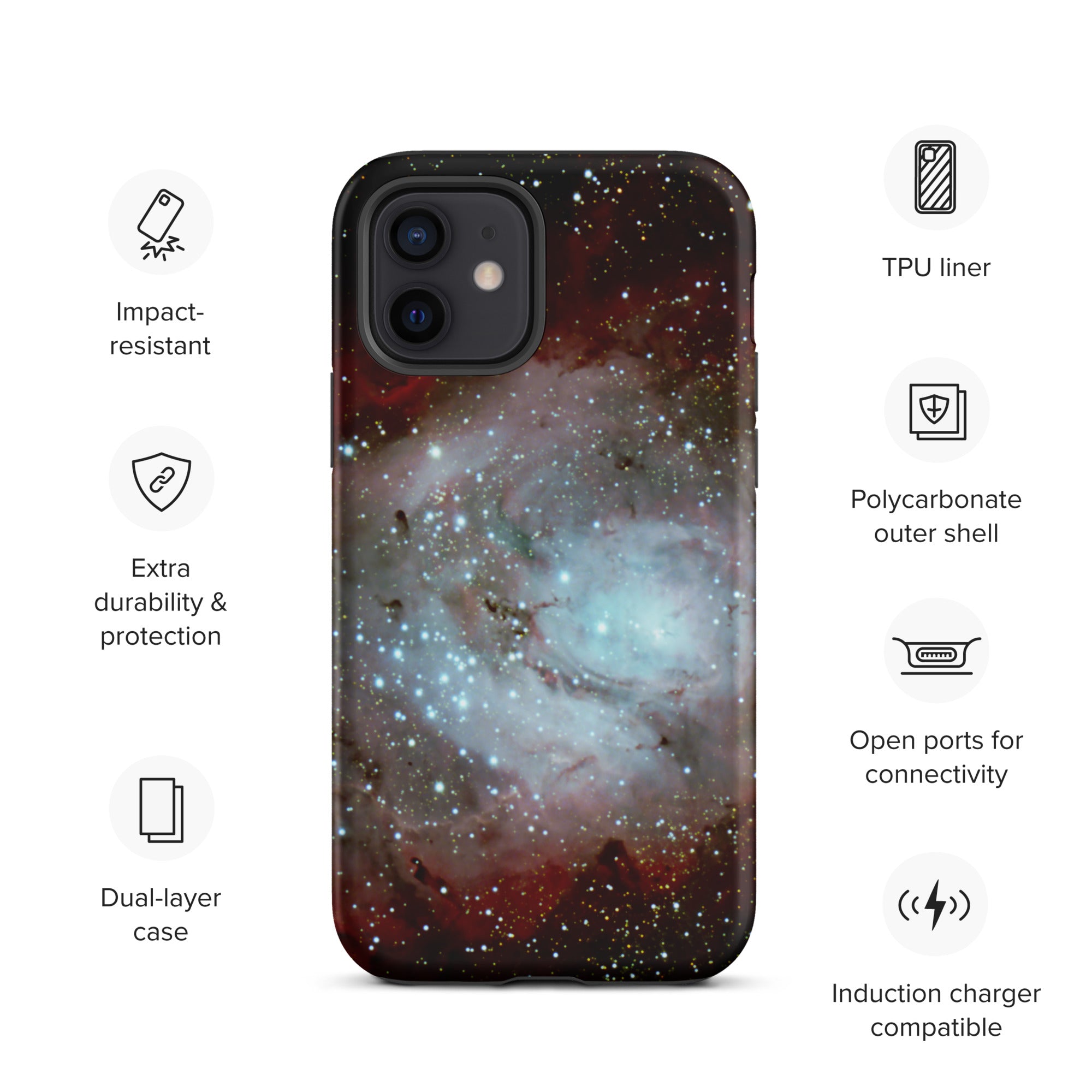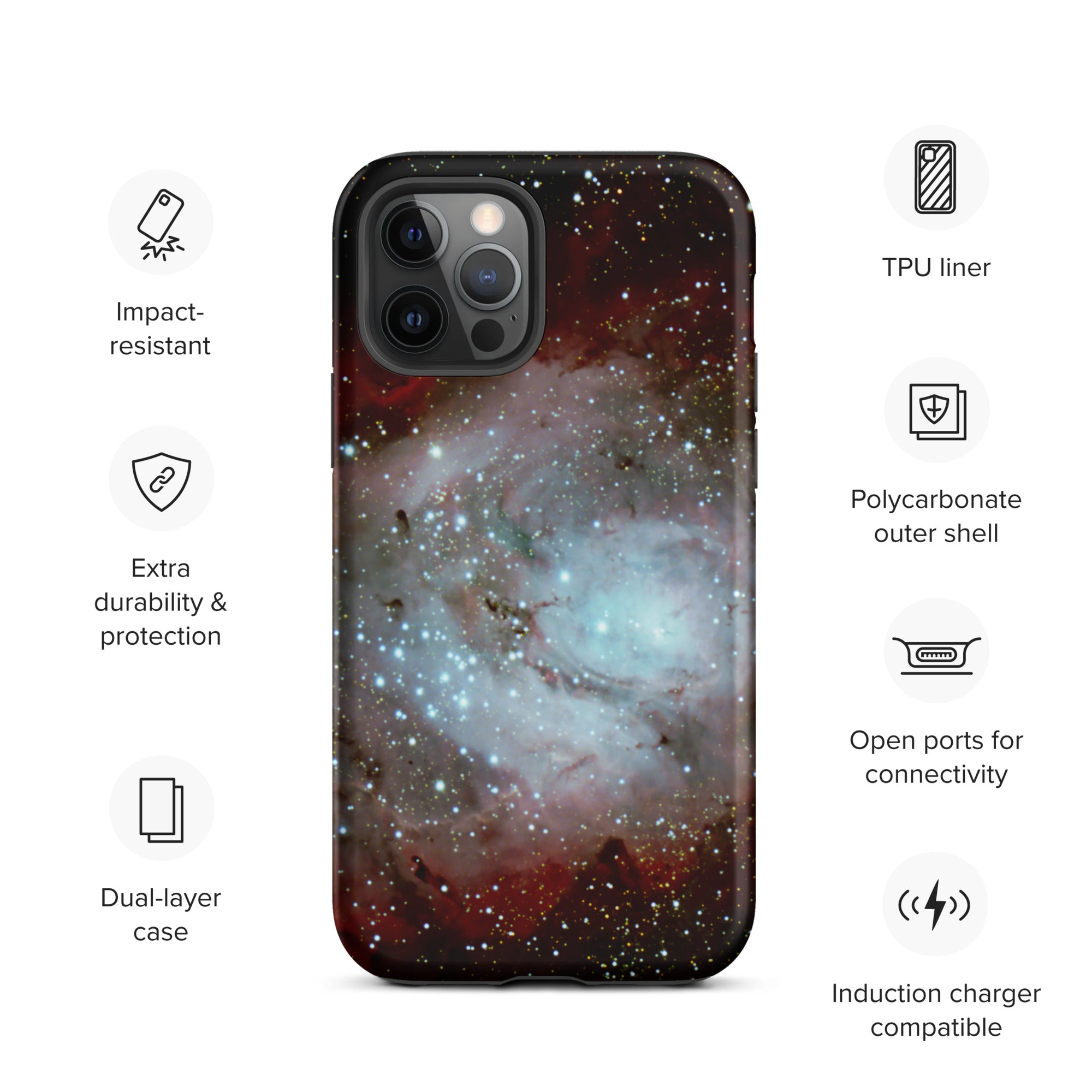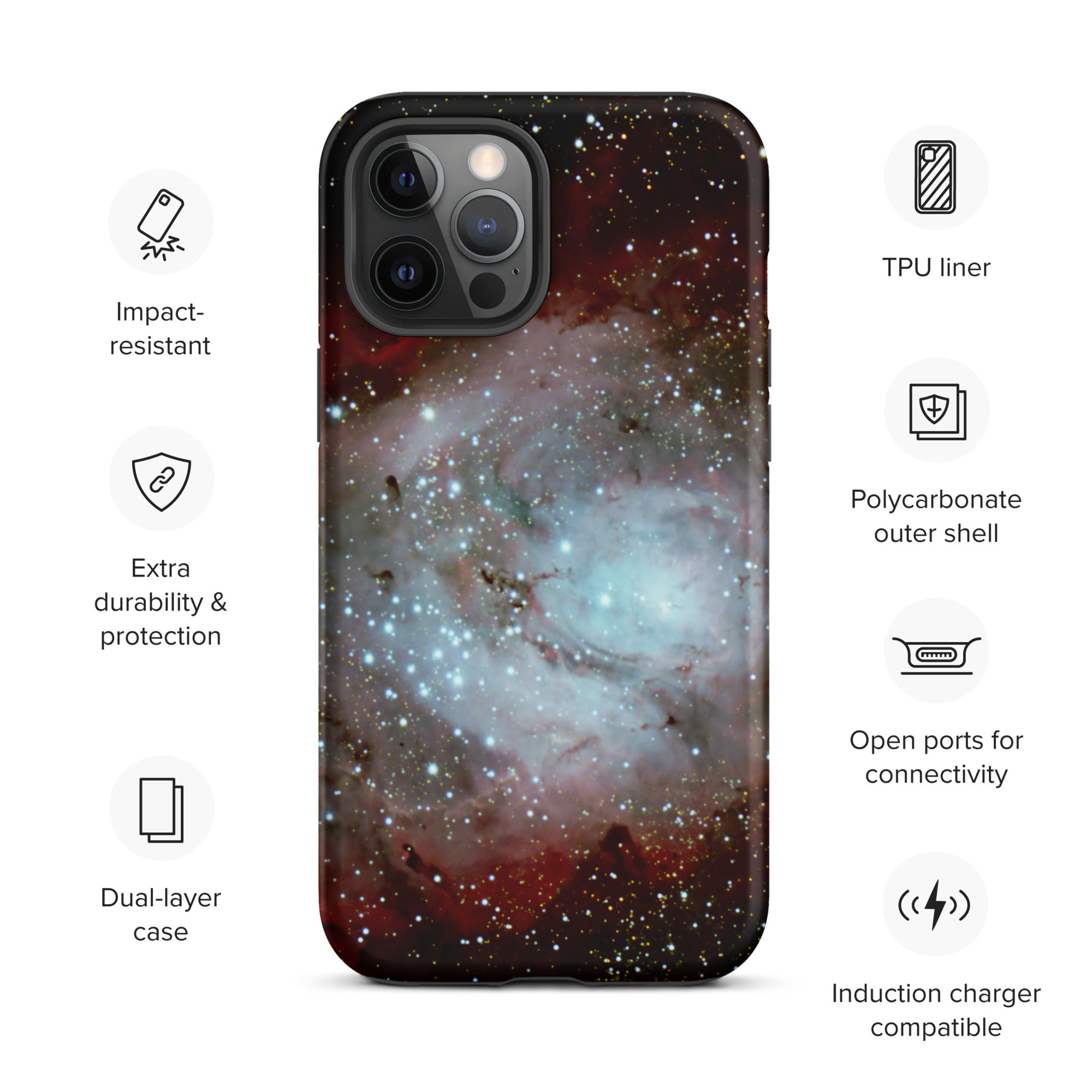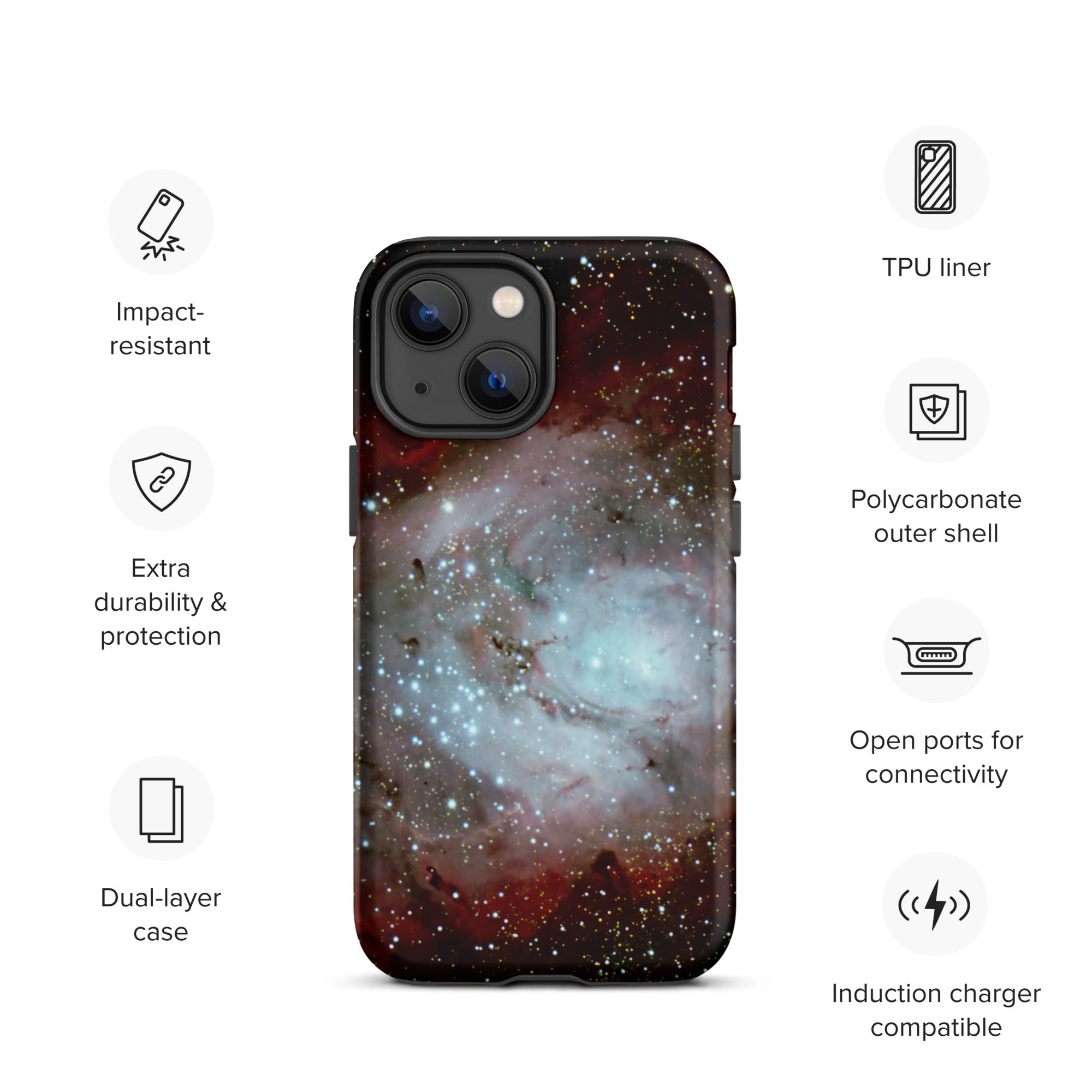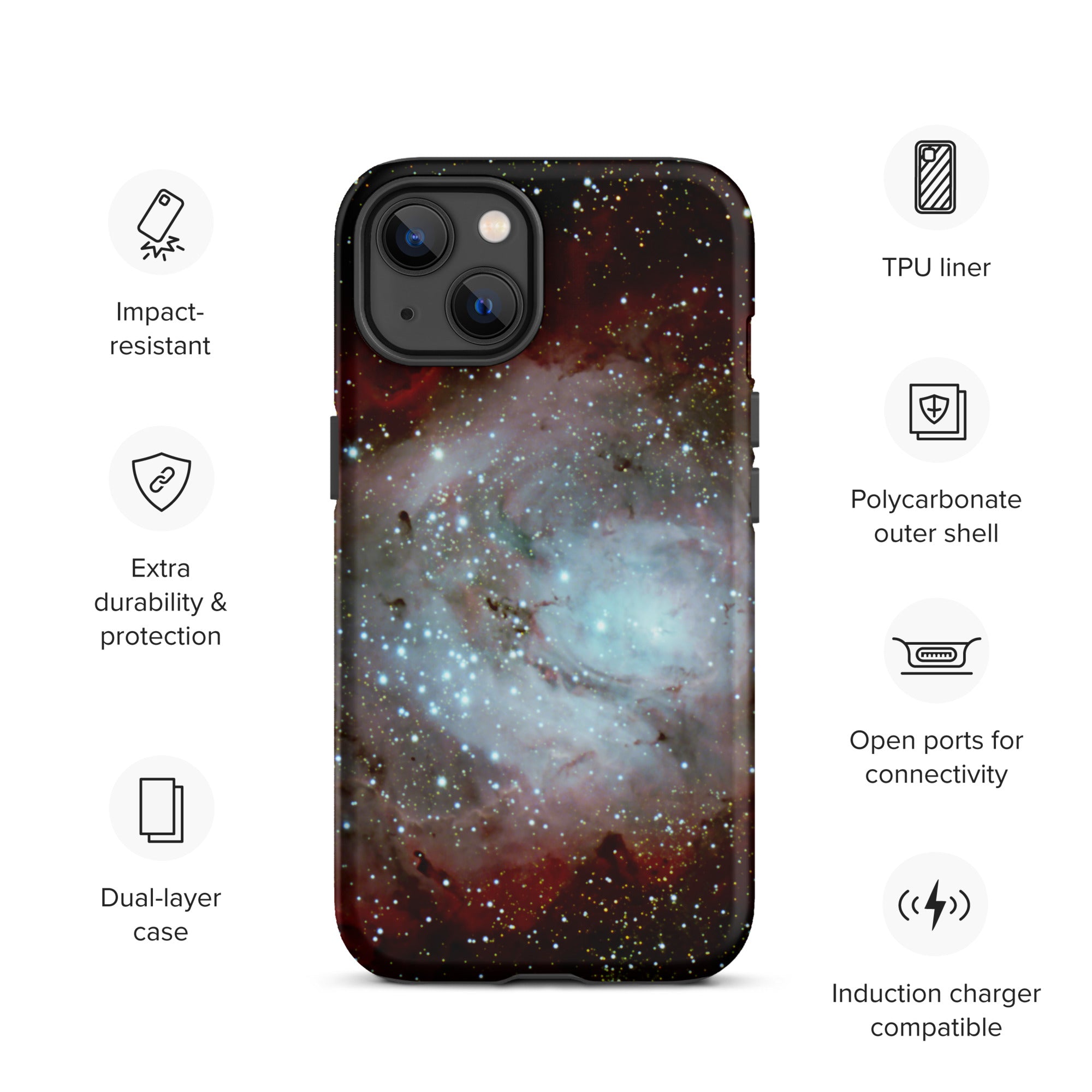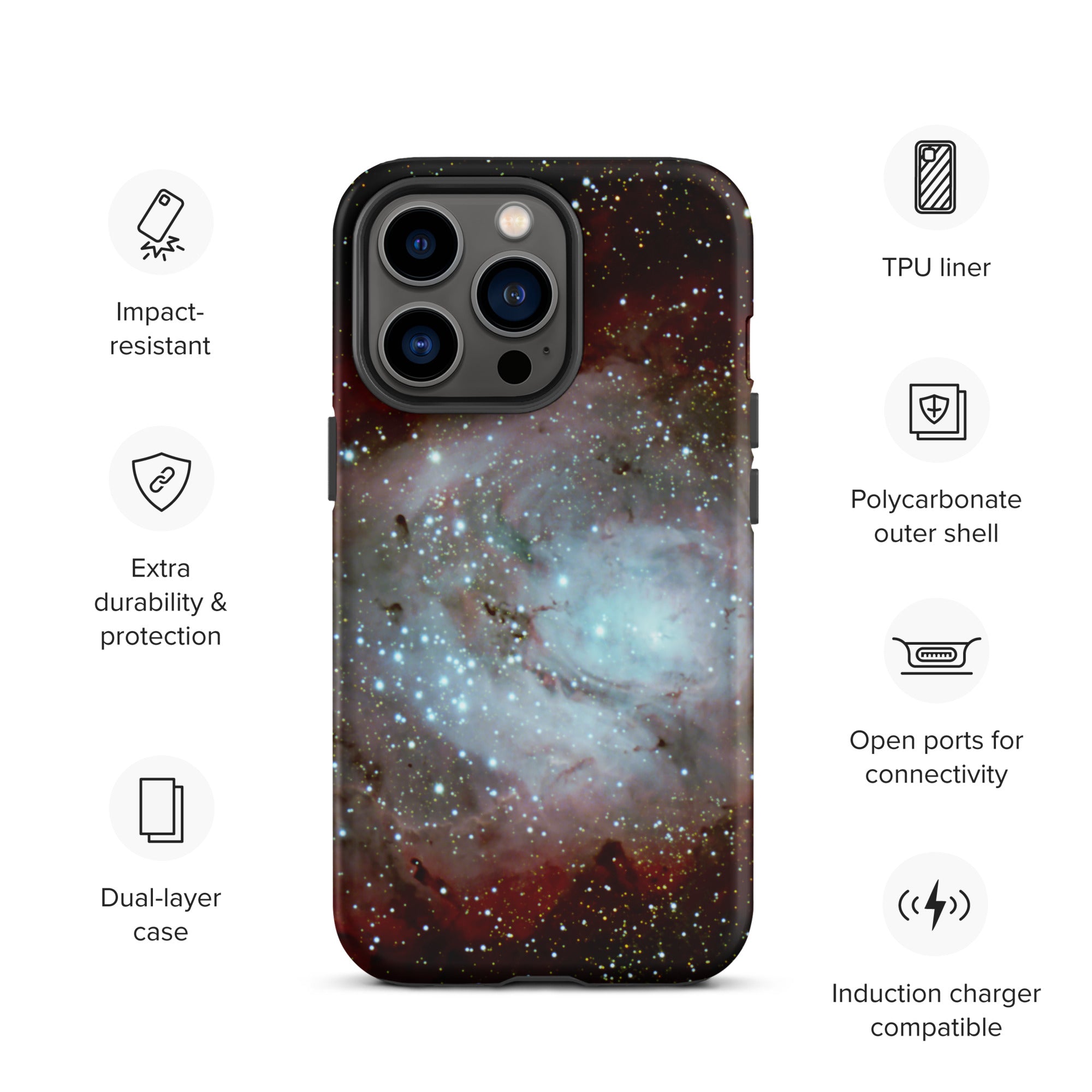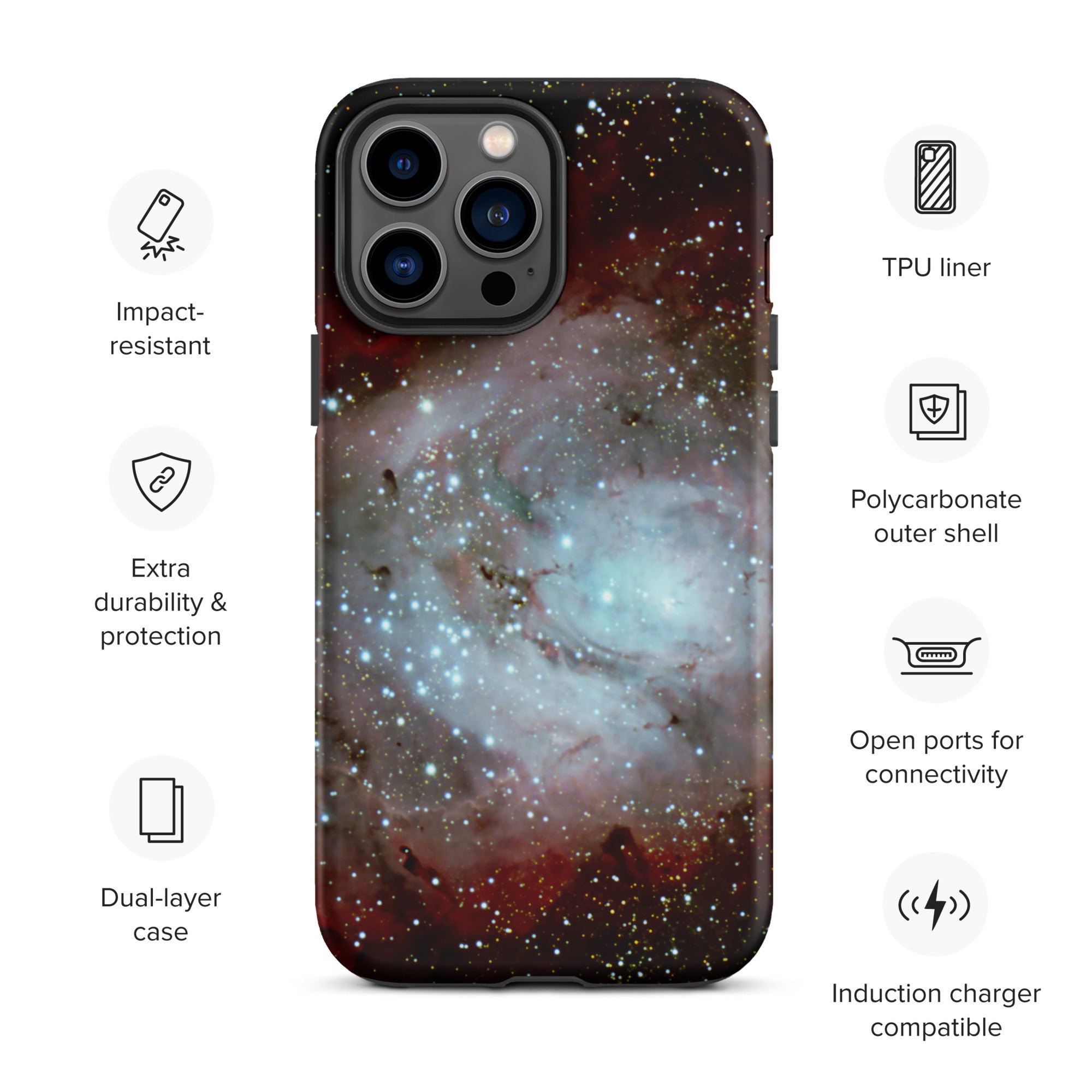 Tough iPhone case: The Lagoon Nebula
---
The Lagoon Nebula (catalogued as Messier 8 or M8, NGC 6523, Sharpless 25, RCW 146, and Gum 72) is a giant interstellar cloud in the constellation Sagittarius. It is classified as an emission nebula and as an H II region.
The Lagoon Nebula was discovered by Giovanni Hodierna before 1654[5] and is one of only two star-forming nebulae faintly visible to the eye from mid-northern latitudes. Seen with binoculars, it appears as a distinct cloud-like patch with a definite core. Within the nebula is the open cluster NGC 6530.[6]
The Lagoon Nebula is estimated to be between 4,000–6,000 light-years away from the Earth. In the sky of Earth, it spans 90' by 40', which translates to an actual dimension of 110 by 50 light years. Like many nebulae, it appears pink in time-exposure color photos but is gray to the eye peering through binoculars or a telescope, human vision having poor color sensitivity at low light levels. The nebula contains a number of Bok globules (dark, collapsing clouds of protostellar material), the most prominent of which have been catalogued by E. E. Barnard as B88, B89 and B296. It also includes a funnel-like or tornado-like structure caused by a hot O-type star that emanates ultraviolet light, heating and ionizing gases on the surface of the nebula. The Lagoon Nebula also contains at its centre a structure known as the Hourglass Nebula (so named by John Herschel), which should not be confused with the better known Engraved Hourglass Nebula in the constellation of Musca. In 2006, four Herbig–Haro objects were detected within the Hourglass, providing direct evidence of active star formation by accretion within it.[2
Protect your phone with style using a durable, dual-layered case. The outer shell is made of impact-resistant polycarbonate, while the inner lining sports TPU lining for maximum impact absorption. Keep your phone fashionable and safe all year round!

• Polycarbonate outer shell
• Thermoplastic Polyurethane TPU inner liner
• Dual-layer protection
• Precisely aligned port openings
• Induction charging compatible
• Blank product sourced from Korea

Important: This product is available in the US, Canada, Europe, UK, Australia, and New Zealand only. If your shipping address is outside these regions, please choose a different product.

This product is made especially for you as soon as you place an order, which is why it takes us a bit longer to deliver it to you. Making products on demand instead of in bulk helps reduce overproduction, so thank you for making thoughtful purchasing decisions!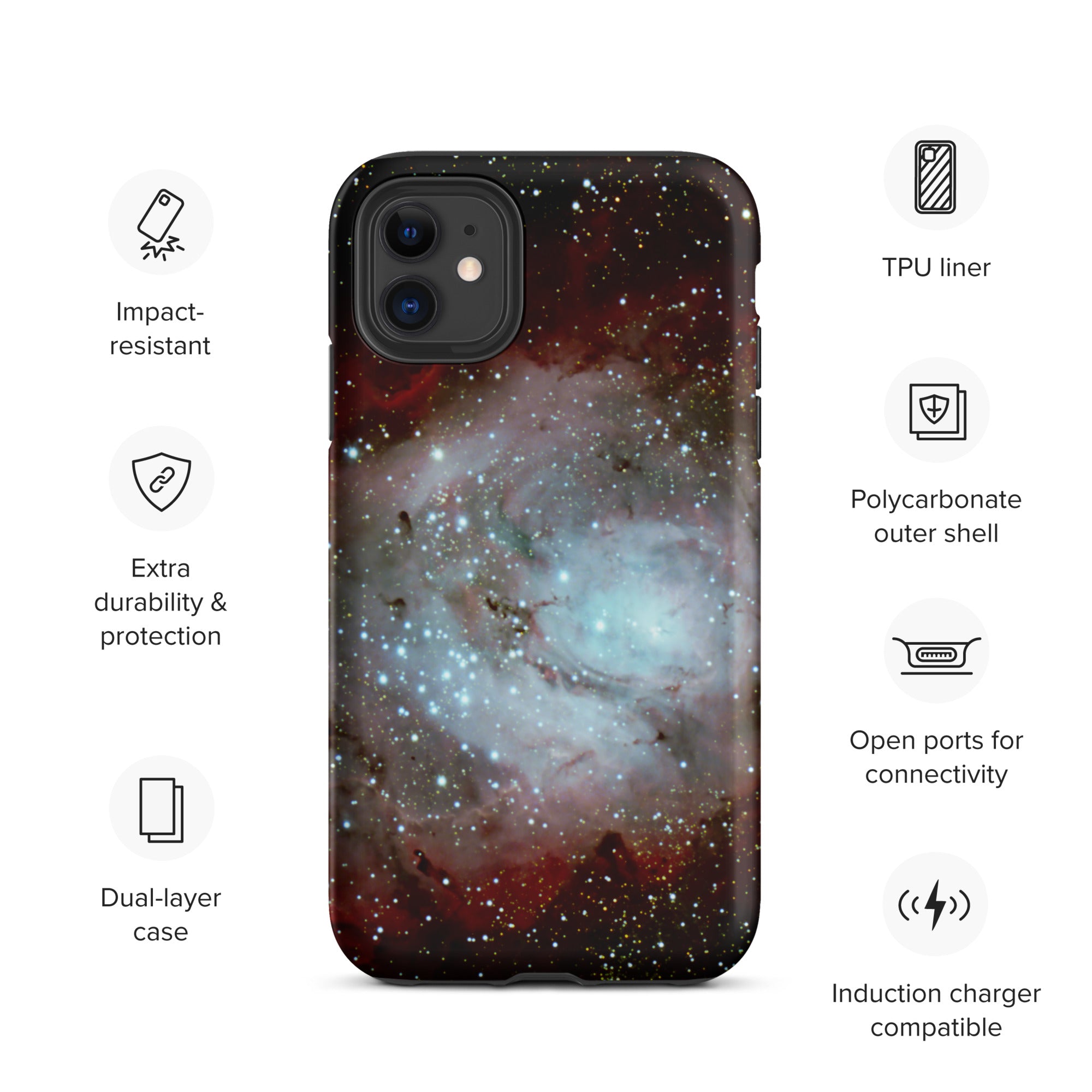 This product has no reviews yet.
This product has no reviews yet.